The Doctor Jeweler of New York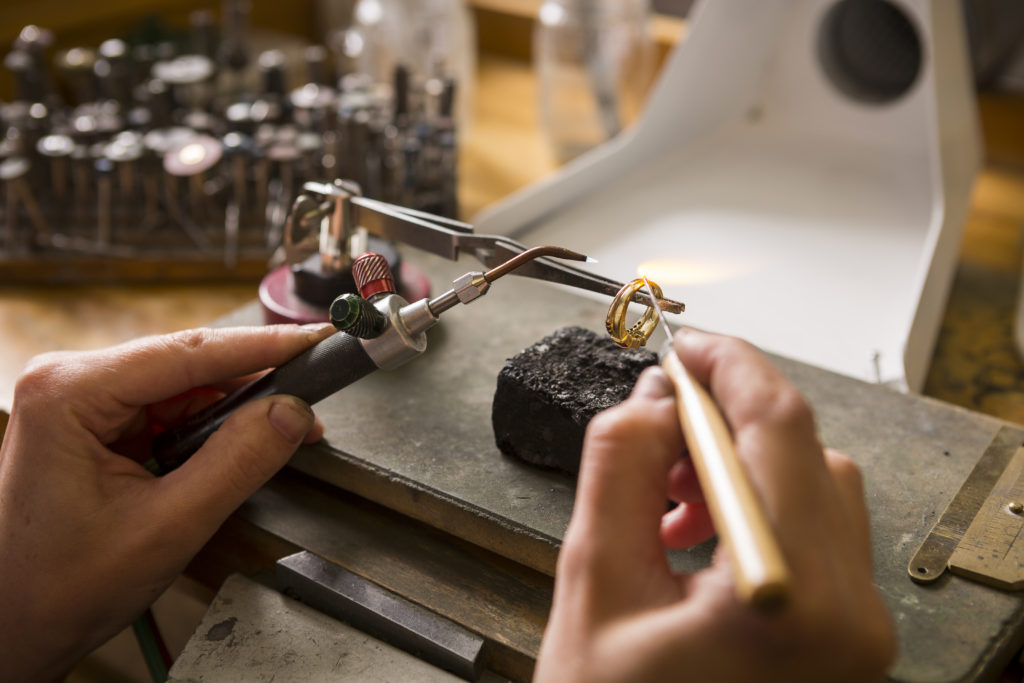 When you have any type of jewelry in need of repair, you can bring it to us. Centrally located in New York, we are easy to get to from all of the NYC boroughs and Long Island. You can visit us from Brooklyn, Queens, Bronx, Staten Island, and of course, Manhattan. We are happy to help you with the jewelry repair you require – and we offer state of the art procedures for jewelry, too.
Jewelry Repair in New York
We offer a lot of types of jewelry repair in New York. From platinum and palladium jewelry repair to 10k, 14k, 18k, some 22k gold jewelry repair and even P4 that is new metal in Jewelry Industry. There isn't a type of jewelry that we are unable to repair. We offer full line of jewelry repair which include: regular soldering and laser soldering of chains, rings, necklaces, earrings, bracelets etc. to be sure that we are able to make all of the necessary repairs that may come up.

When it comes to stone settings, it's important for a stone to stay in the setting. Our services include retipping prongs to ensure the stone is properly set and won't go anywhere, no matter how hard you work or play.

We offer necklace repair of virtually any kind of necklace that you may have. Whether it is pearl restringing, bead restringing or fixing a knotted chain with a chain repair, you can depend on us to get the necklace back to its original condition.

Bracelet repair is also handled by us. Similar to necklace repair, we can do it all. We also work with hollow bangle bracelets so they can be reformed when bent from extended wear.

Earring repair, ring repair and even anklet repair – you name it and we can repair it. Our services are significant and you won't find another repair shop in NY that does as thorough of a job as we do. We have the experience that others don't, which is why we can offer the sheer number of services that we do.

If you have a question about what we can fix, please give us a call. Whether it's a designer piece of jewelry, a family heirloom or just a favorite necklace, we will be able to repair it. Call, stop in or make an appointment today.
Other NY Jewelry Services
We specialize in virtually everything having to do with jewelry. Even if your jewelry isn't broken, you can bring it into us and we will be able to do what you want with it. If your new engagement ring doesn't fit just right, we offer ring sizing. If you need jewelry polishing or jewelry finishing, we offer those services as well. Our goal is to provide you with stunning looking jewelry – and that includes the upkeep of it, too. Jewelry cleaning must be done on all levels and if you don't have the right equipment, you can damage your jewelry.

Stone polishing and metal polishing are some of our specialties. Even if it's not in a jewelry setting, bring it in and we will be happy to quote you a price. We are often able to do the polishing while you wait.

Jewelry mounting and remounting is another important service that we offer. Many times, people will bring in a stone that they want removed and remounted. If you inherited jewelry that isn't your style, we can make it your style by remounting it into another setting that you like more. We can also change the mounting so that it's more secure, ensuring you don't lose a precious or semi-precious stone along the way.

Precious and semi-precious stone replacement is a common service, as is stone replacement. If you have a ruby ring and wish it was emerald or another precious stone (or semi-precious one), we will help you make the swap so that you love every piece of jewelry that you have.

When you want to personalize your jewelry, we also offer engraving. What's unique about our engraving is that we offer machine engraving and hand engraving, allowing you to get the font and the style that you want on the jewelry, making it that much more special when you hand it to someone.

Call us today and find out about all of our many services. In some instances, we will even pick up the jewelry and deliver it back to you. Our goal is to provide you with the ultimate level of jewelry repair. You deserve to have stunning looking jewelry that fits you and your style. If something is wrong with your jewelry, we provide the services to ensure you have jewelry that you can wear so that it fits properly, is void of any problems and sparkles.